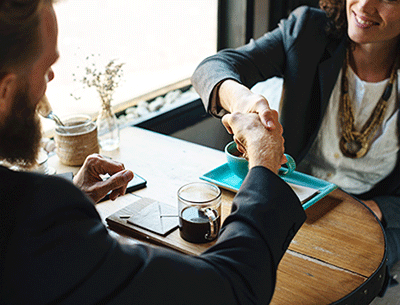 Where can you find potential clients?
I get asked that all the time, but a better question is: Where do you find big-budget content buyers?  
Below you'll find a handy list of places where high-potential, high-paying prospects hang out.
The rationale behind this list
Don't expect to find a list of gigs for the picking. You'll still need to prospect & pitch beyond just answering an ad.
Why? Because the kinds of clients we're after don't typically list gigs on job boards.
Speaking of which: The following list excludes conventional freelance job boards and content mills you may have heard about. With few exceptions, these websites are generally characterized by low pay, high competition, and little control over your terms, rates and the client relationship.
Granted, they can be good springboards for new-ish freelancers looking to build their skills or portfolio, but they're not long-term solutions if you're looking to make a great, comfortable living as a freelancer.
Instead, we'll focus on (a) places you're more likely to find high-paying clients, and (b) sources you can access for free, or for very little.
Without further ado:
1. LinkedIn.
Let's start with the obvious. You might know I'm a huge fan of LinkedIn, as are many high-earning freelancers. Here's why. It's basically a directory of high-potential prospects, with handy advanced search functions, at no cost.
2. Your local chapters of marketing trade associations like the AMA, PRSA, CMO Council, and others. You can just peruse their websites, of course, but you can also attend local luncheons, volunteer on a committee, and access member directories if you choose to join. Sign up for a luncheon today and you could be breaking bread and sipping tea with a handful of prospects in just a few days.
3. Trade associations for your chosen niche(s). You'll find trade associations for any market segment under the sun, from cybersecurity to real estate to home-made cosmetics manufacturing, and everything in between. Just ask Google, or the types of clients you want to attract.
4. Niche publications. Trade associations typically have their own magazines, but you'll also find plenty of other publications directed at both content-hungry marketers, and your target niche. One of my favorites: the Chief Content Officer magazine. Anyone who advertises, writes for, or is featured in this magazine has a big appetite for content.
5. Marketing professionals discussing content/inbound marketing on social media. They're easy to spot by their use of relevant hashtags like #contentmarketing, #inboundmarketing, #emailmarketing, #salesfunnel, #leadgen, #leadgeneration, #brandjournalism, #marcom, and so on. You'll have an easier time finding them on Twitter, the birthplace of hashtags.
6. Active participants in professional groups on social media — especially if those are marketing-focused groups or discussions. (Search "content marketing" on LinkedIn, click on the "Groups" tab, and have at it.) Feel free to lend your expertise to discussions, taking care to be helpful, not salesy.
7. Marketing agencies. My fave! Marketing agencies have an insatiable need for content and limited in-house capacity, so they're nearly always in need of freelance writers. If an agency likes working with you, chances are they'll send you work long-term.
8. Speakers, attendees, sponsors of conferences — especially marketing conferences, but also industry-specific events aligned with your target. (My favorite marketing conference might be the Content Marketing World.)
9. Companies that already show signs of investing in content marketing. They might have an active blog, social media, articles, videos, downloadable resources, and/or the like. They already value and spend $$$ on content, and will continue to do so. Like selling supplements to fitness enthusiasts, this is a much easier sell than companies that don't currently spend money on content.
10. Graphic & web designers. Clients come to them for design, but often don't have content to fill their brand new websites or glossy brochures. It's a common problem. "Clients are often shocked to realize content doesn't come with their new website, or they think they can write it on their own and get overwhelmed," one web developer told me. Get to know great designers and explore ways you could work together.
11. Book of Lists. I thought these were specific to my city, until a friend in another state mentioned her local Book of Lists. They're usually published by the local Business Journal, and rank companies in hundreds of industries in your region, featuring insights like company revenue, key executives and top clients. Last time I checked, a print version of my local Book of Lists cost $35. You may also find samples of past years' versions online.
12. Creative staffing recruiters. This one wasn't on my radar until a couple of fellow writers mentioned they get freelance work through recruiters, without having to sacrifice their rates. Those writers recommended  The Creative Group and Creative Circle, and I've seen some ads for Artisan.
13. Your former & current clients, of course. Make it a habit to ask for referrals or introductions — particularly when clients thank or compliment you on a job well done.
14. Your network: friends, former coworkers, bosses, fellow volunteers, vendors you've purchased from. Who do you know, and who do they know? Can you get an introduction, or drop names of mutual acquaintances?
Given this list a try, and I'll be SHOCKED if you ever run out of prospects. (Here's a related post on finding people's email addresses.) Let me know how it goes.
Have other favorite prospecting sources? Please share below!
♥ Special thanks to the freelance writers in our private Facebook group for contributing to this roundup.