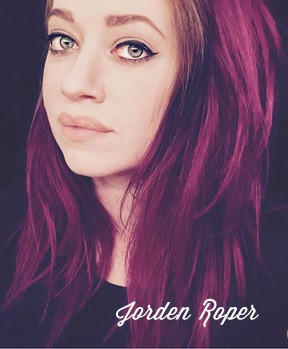 Successful writers know whatever roadblock they face in building their business, someone's already been there, figured it out, and turned it into an advantage.
It's why paying attention to your peers' business journey is so dang valuable.
What better way to avoid dead-ends, potholes and blind spots (and find hidden gems) than through the experience of others who've braved the same path and reached the Promised Land?
Today, we talk to Jorden Roper, the no-BS writer behind Writing Revolt. I bet you'll find aspects of her journey sound a lot like yours.
Let's jump right in.
Q: What were you doing before freelancing, and what drove you to make a change?
JR: Before I was freelancing, I worked at a marketing agency. It was a start-up, and there were a lot of things about the job that drove me to make a change.
But I didn't really know what to do — I had no degree and barely any solid writing experience.
Then, I discovered that freelance writing was an option. And as soon as that happened, I started researching like crazy to see how I could do it full-time.
Q: How did you transition from that into full-time freelancing?
JR: Long story short, I got fired. 🙂 It was pretty stressful at the time, but it ended up being a total blessing in disguise!
Because I was suddenly without a source of income, there was no "maybe" when it came to making freelance writing work. I HAD to make it work. My bills weren't going to pay themselves!
Q: What was your biggest obstacle or source of anxiety, and how did you overcome it?
JR: When I was first starting out, I'd get pretty nervous about talking to CEOs and marketing managers on the phone. I felt like I had no idea what I was doing, and I'd think to myself:
Who the hell am I to tell these people how their content should be written!?
But I did it anyway, and I was able to land some good clients pretty quickly as a result. That's why I think it's so important to step out of your comfort zone — you pretty much have to if you want to win high-paying clients over!
Q: What mistakes did you make?
JR: Oh, I've made SO many mistakes! One time, I took on a client who wanted over 30 pages of website copy in one week — and this happened while I was still working my day job. Not good!
I've also screwed up lots of client phone calls, missed a couple deadlines, and even worked so much that I got sick. The list could probably go on forever!
But you know what? No regrets. Every time I fail in my business, I remind myself that it's a learning experience. Failure is inevitable, and taking action is the most important thing!
Q: How do you drive new business or find high-paying clients?
JR: When I first started out, I found clients using outbound marketing methods like cold emailing, sending snail mail (yes — seriously!), and pitching clients on the ProBlogger Job Board.
Those clients helped me make enough money to pay my bills while I was building my social media presence, optimizing my website for SEO, and using other inbound marketing tactics that are effective but take time to work.
It was important for me to use outbound marketing at first to build a clientele when I had no online presence — that's what helped me lay a foundation for long-term success! But now, I mostly get clients from referrals, my website, and my social media profiles.
Q: Who's an ideal customer for you? How did you land on this niche?
JR: My ideal client is someone who wants in-depth blog posts about marketing topics and trusts me to make the right decisions about what should be included in their blog posts.
I landed on this niche because I love marketing. I could talk about it all day long. And I usually do — just ask my husband! 🙂
Q: What changes are you making to your business this year and why?
JR: I'm cutting WAY back on freelance writing work to make more time for my own blog, where I teach other freelance writers how to make more money. As much as I love working with clients, I'm finding that I'm super passionate about helping other writers succeed, so I want to focus more on that!
Q: Anything else you'd care to share with ambitious writers looking to build a high-profit freelance business?
JR: Realize that you have to position yourself as a business owner — not a desperate job-seeker — if you want to win high-paying clients! Think about the results your potential clients want, and position yourself as the writer who can help them achieve those results.
And stay off crappy bidding sites like UpWork if you can. I know a lot of writers think they have to start out by bidding on gigs that pay one penny per word, but that's not true.
Other marketing methods can help you quickly land clients who actually pay well — even if you're a newbie! You just have to be proactive and keep putting yourself out there.
Q: Where can people find you?
JR: I blog at Writing Revolt, and I hang out on Twitter all of the time!