Note: This post covers finding contact info for prospects you've already identified. For guidance on where/how to find prospects, get the free sales e-course right here.
---
You have your list of potential clients, pinpointed the folks you should contact, but can't find their email addresses. No problemo.
In this post, we cover a handful of ways to uncover email addresses for that hot-shot marketing manager or elusive agency owner so you can introduce yourself and charm them into hiring you.
I'll start with tactics that require the most effort which, really, are still easier than brushing your teeth. But it's what I used to do before handy tools emerged that did all the heavy lifting for me. (We'll get to them soon.)
In any case, it's worth knowing how to dig for email addresses without the help of tools — say, if you're working from a borrowed computer and don't have the right extensions loaded on your browser.
Which brings us to…
Good ol' Boolean searches
Boolean is just a fancy name for advanced search functions, but you don't even have to remember that much. Put simply, if you're searching for Robert Smith's email address at XYZ.com, you'd google this:
"Robert Smith" and *@XYZ.com
If you care to know how this works: The parentheses tell Google to search for "Robert Smith" together — not just Robert, and not just Smith. The inclusion of "and" tells Google it must search for "Robert Smith" in combination with the URL you've entered. Finally, the little asterisk attached to the URL tells Google you're looking for an email address.
This works often enough, with Google displaying the exact email address, but not always. In that case, you could…
Pay attention to company email conventions
If you can spot an email address for any employee at that URL (say, Jane Jones in accounting), pay attention to its formatting: Is it firstname.lastname@XYZ.com? firstname+lastinitial@XYZ.com? Chances are your prospect's email will follow the same pattern.
Jane.Jones@XYZ.com → Robert.Smith@XYZ.com
JaneJ@XYZ.com → RobertS@XYZ.com
The lazy (best?) way: automated email finders
I've enjoyed both tools below, which you can search via their websites, or as Chrome extensions. (The extensions are super simple to install and make things much easier, by the way.)
RocketReach.co allows you to search 5 contacts per month at no cost.
Hunter.io allows you to search 100 contacts per month at no cost.
Saleslift.io claims to be "100% free forever" and enables you to capture and export an unlimited number of email addresses.
If you follow directions to install their Chrome extensions, you'll get icons on your navigation menu, facilitating email searches on websites you visit. This works particularly well with LinkedIn, my favorite prospecting source.
Take a gander below: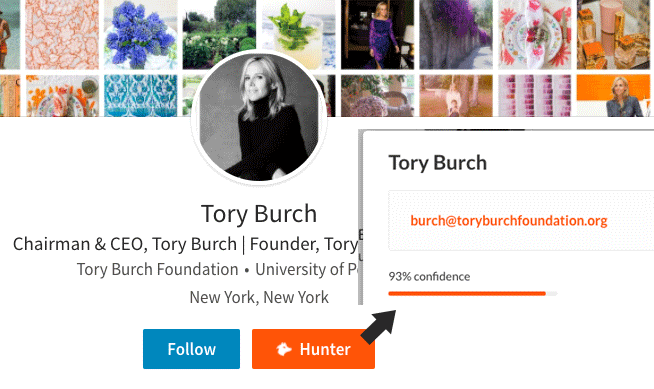 Hunter.io adds a handy, orange button on a LinkedIn profile, which you can click to reveal that person's email address.
>> UPDATE: Hunter has ended its LinkedIn integration, but you can still use its website. I've since installed Saleslift.io to accomplish the same thing.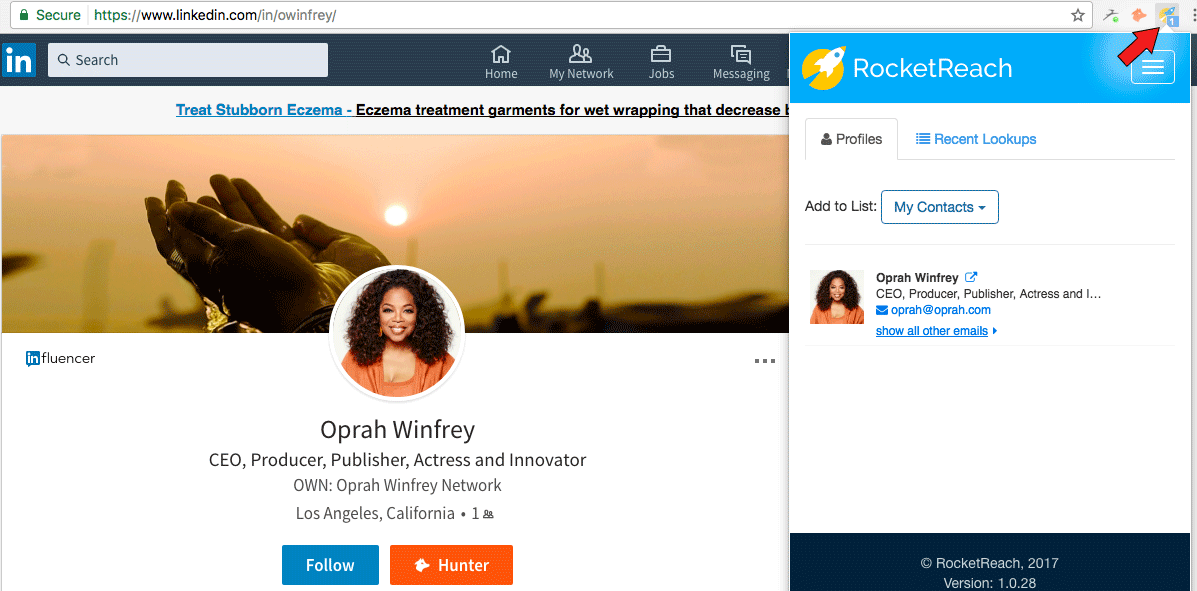 RocketReach works similarly, but instead of adding a button on the profile, you hit their icon on your navigation bar (see red arrow above).
FYI: one tool that didn't work
Lastly, I'll list one disappointment. I had high hopes for this tool, since it was recommended by a fellow freelancer: findanyemail.net.
I tested it by searching for my own email address, then a former coworker's since I'm very familiar with email addresses at her company.
In both cases, the tool "found" email addresses that don't exist and marked them all "verified." My impression is that the tool seems to guess all possible variations of each address, but then marks them all "verified," which isn't true. Thumbs down from me.
What other ways do you use to find prospect's email addresses?