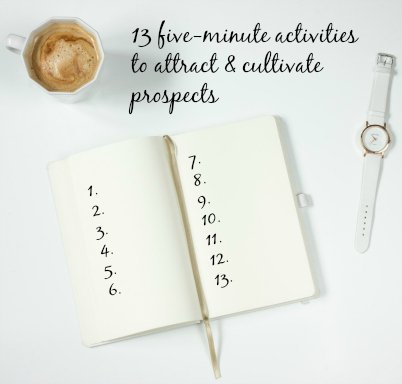 When you're building a side business, juggling it alongside a day job, family, your favorite TV show schedule and other activities, it's easy to feel you don't have enough time to secure new clients.
While I'm a fan of massive action, I'm a bigger fan of tiny-tasking: breaking my to-do list into tiny chunks I can knock out with minimal time or stress.
A nice side-effect: Checking those tiny tasks off your to-do list often creates so much momentum you'll want to keep going… and before you know it, you've accomplished far more than you first intended.
But I digress. Below you'll find 13 activity ideas for attracting or cultivating prospects in five minutes or less.
Some of you shared a few others in our Facebook group, but I focused on tasks that put you in direct contact with a potential client.
Here we go:
Post a compelling question or helpful answer in a relevant LinkedIn or Facebook group where potential clients hang out. Then interact with responders.
Use the Twitter search function to find marketing-related questions, then interact with them. Bonus points if you're answering content questions by marketing pros, since they tend to have big content budgets. (Helpful hashtags: #contentmarketing #inboundmarketing #salesfunnel #leadgen)
When clients compliment your work, thank them and ask for a testimonial or referral.
Email a helpful tool or article to a prospect who interacted with you in the past but wasn't ready to hire you then. "Thought you might find this helpful" type of thing.
Get familiar with your local advertising, marketing, and PR trade associations. These are folks who need writers, and have money to spend. Sign up for an upcoming meeting.
Catch up with an old boss or coworker who loved working with you, or respected your work ethic. Ask for referrals or introductions.
Find a prospect whose blog hasn't been updated regularly. Ask if they could use some help in attracting and nurturing more readers.
Make or revisit your dream client list. Identify mutual acquaintances, common ground, or other ways to get your foot in the door.
Send a brief, cordial email to a past client or prospect you haven't heard from in a while.
Congratulate a prospect if you see them on the news, or when they've earned an industry award. (These things are often mentioned in their company social media profiles, and in the News section of their website.) No need to pitch anything. Just congratulate them on the achievement.
Follow up with prospects, past clients or acquaintances who recently switched jobs. (Another reason to be on LinkedIn!) Wish them well in their new role, and check whether their organization could use content to accelerate performance goals. (Or whatever makes sense to their situation.)
Jot down a super helpful checklist or list of tools that can make your ideal client's work easier. Then share it via email & social media.
Make friends with a graphic or web designer. Design clients often need content, and vice versa. Explore the possibility of partnering on joint proposals.
What's worked well for you, or what would you add to this list? Please share below!
Wishing you a productive week 🙂
Andrea